Dressage Rider
---
Mariette van den Berg BAppSc.(Hons), MSc., PhD (Equine nutrition)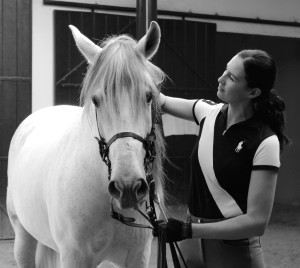 Since the age of 12 Mariette has been passionate about horse riding and dressage. She started horse riding at the riding school "Manege de Veenhoeve" in the north of the Netherlands. After practising a year on school master ponies Mariette traded the riding school for a private stable where she trained and competed ponies and horses in dressage, show jumping and eventing at national level.
Throughout her animal science degree Mariette continued with training horses. Besides owning a beautiful black Oldenburger Warmblood, that she competed at advanced and FEI dressage nationally, Mariette trained a number of other horses for private sport horse stables and breeding studs in Europe.
In The Netherlands she was also involved with the preparation of various young horses and foals for the Royal Dutch Sport Horse classifications and auction sales. In addition, to all the training work Mariette assisted at a veterinarian clinic specialised in equine reproduction and embryo transplantation to develop more experience in horse breeding.
Mariette is fascinated about the origin of dressage and after reading more literature on classical riding she became interested to integrate these principles in her training.  In 2008 Mariette started her classical dressage and instruction training at the Classical Breeding and Training Centre Moravita in the Netherlands. At Moravita she had the opportunity to ride various schoolmaster Lipizzaner and Fredriksborger stallions.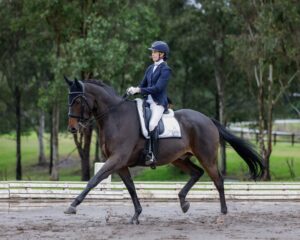 In 2009 she moved to Australia and founded MB Equine Services that offers specialised equine nutrition and regenerative horse property design and pasture management consulting services. She owns a Holsteiner Warmblood that she competes at FEI dressage level in Australia.