MB Equine Services Books
---
MB Equine Services writes independent articles for a number of magazines and websites including Horses and People, Hoofbeats, Equine Excellence, Equestrian Life and the Permaculture Research Institute of Australia. A collection of articles is now available in two full colour volumes.
The books include additional information and articles that have not been published before. The volumes are available in soft-cover & e-book format for iPad and iPhone.
---
NEW Equine Permaculture:
Regenerative Horse Property Design & Pasture Management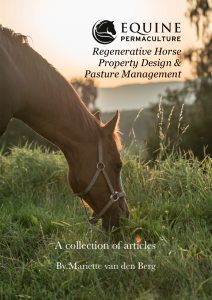 A collection of articles, 92 pages
by Mariette van den Berg
Generally, horse keeping is considered to be a costly hobby or business, especially with current rises in living expenses and feed costs. Horse and land owners also encounter high input costs and difficulties to maintain pastures to sustain the dietary needs of their horses.
New approaches to meeting these challenges are now gaining traction in the equine community and sport industry. To be able to make horse-keeping more economically viable and productive, we must develop sustainable horse properties and pasture management plans that cater for both immediate and long-term needs, our own personal goals (social and economical), our horses' well-being, and the environment.
By applying the ethics and principles of permaculture design and integrating knowledge about biological pasture management, holistic grazing planning, horse behaviour, horse nutrition, and horse management, we are able to create a more sustainable and healthy equine system. All horse and land owners of small and large acreage alike are able to restore their land, improve soil carbon, regenerate pastures, drought-proof their farms, and close the input cycle of chemical-based fertilisers by developing their own compost (tea) alternative, reduce supplementary feed cost by designing horse forage systems, and improve natural feeding behaviour by forage enrichment and slow feeding strategies.
This booklet is a collection of articles that have been written for various national horse magazines in Australia. They provide comprehensive information about integrative systems and how to develop and regenerate horse properties and manage horses in an ecologically sound and cost effective way to ensure the health of our horses and our land.

Printed book $34.99 + postage & handling
Go to Equine Permaculture book store: http://equinepermaculture.com/shop/
E-book currently unavailable (working on an update)
E-book $12.99 (Ipad, Iphone & Ibook)
---
Equine Nutrition & Feeding Management
A collection of articles
by Mariette van den Berg
The use of horses for sporting and leisure has resulted in an increase interest in equine research that expands the knowledge on the behaviour, physiology, health and performance of horses. In particular, the increased attention given to equine nutrition during last 40 years by research groups around the world, has revolutionised the way we feed our horses today.
This book is a collection of articles that have been written for various horse magazines in Australia. It covers many nutritional subjects including the anatomy of the digestive tract, evolution of the horse dentition, feeding of breeding and growing horses, digestive and metabolic disorders and equine feeds and supplements. We hope that this volume will serve as a guide for all horse owners that are keen to learn more about integrated horse nutrition and feeding management.
CURRENTLY OUT OF STOCK!
NEW EDITION & E-BOOK COMING SOON!