About MB
---
Dr. Mariette van den Berg BAppSc. (Hons), MSc., PhD, (Equine nutrition), RAnNutr.
Nutritionist & Property/Pasture Management Educator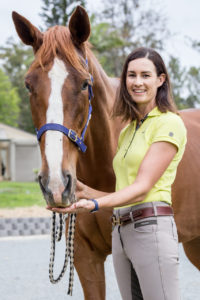 Mariette van den Berg was born in the Netherlands in the province of Friesland, which is famous for the beautiful black Friesian horses. At a young age she was already passionate about working with animals and especially horses. Studying animal management and science was for her a logical step to learn more about animals and biology.
In 2000 Mariette commenced her bachelor honours program in Applied Animal Science at the Van Hall Larenstein University of Applied Sciences in The Netherlands. Throughout this study she enlarged her passion for animal nutrition and in particular equine nutrition. At the Veterinarian Science Department and Animal Nutrition Department of the University of Utrecht she completed a research internship that studied the effect of high phosphorus intake on the phosphorus and calcium balance in 3-6 year old Shetland ponies. Mariette also worked with other animal species including, livestock, companion animals and wildlife.  She graduated with a bachelor of applied animal science (honours) degree  in 2004 and in the same year she started her Master's degree in Animal Science at the Wageningen University in the Netherlands.
In 2005 she traveled to New Zealand to complete her post-graduate thesis work on equine nutrition. At the Massey University in Palmerston North Mariette studied the effect of dietary transitions on the faecal pH and microbiology in New Zealand Thoroughbred horses.  She presented her work at the 2006 Australian Equine Science Symposium: 'Equine Science 2006' on the Gold Coast (Australia).
After her studies she started her career in the animal health and nutrition industry in the Netherlands. In 2009 she moved to Australia and founded MB Equine Services, an education business that offers specialised consulting services in integrated equine nutrition, horse property design and pasture management. She is also passionate about dressage and competing. 
Mariette has recently completed a PhD in equine nutrition and foraging behaviour at the University of New England in Armidale, Australia. She investigated factors that influence foraging behaviour and diet selection in horses, with a main focus on orosensory and post-ingestive feedback mechanisms. Mariette is also a specialised lecturer at University of New England and is a frequently invited speaker at various horse nutrition and land care workshops and conferences in Australia, Brazil and USA.
Besides her passion for equine nutrition and research she is also a Certified Permaculture Designer and initiator of the Equine Permaculture movement. Equine Permaculture unites like minded horse people that want to learn about the principles and implementation of permaculture (design) and other sustainable farming strategies on their own properties. (www.equinepermaculture.com)
For more information about our equine nutrition, horse property design and pasture management services visit our website pages or contact us for a personal quote.